A few things floating around. The first photo is not mine, nor my work. It's Dave Fisher's carved sign, made for Jennie Alexander. Finished just before JA's death, so now what to do with it? I told Dave to keep it – but he had other ideas. Read on.
Here's Dave's story about this sign:
"I carved this sign for Jennie Alexander, author of the seminal book, Make a Chair from a Tree.  Since then, the leaves have fallen and the oiled oak has begun to take on a patina.  Although Jennie was able to see photos of the finished sign, she passed away before she was able to receive it.  After a lot of thought and talking with Jennie's daughter and others close to her, I've decided to auction the sign and donate the money to the recently established Plymouth CRAFT Green Woodworking Scholarship.  Learn more about the scholarship here:  https://www.plymouthcraft.org/craft-green-woodworking-sch
This scholarship has already received some generous contributions, and they will allow many people over the coming years to participate in Plymouth CRAFT classes and events who would have otherwise been unable to.  I think that Jennie would have supported such an idea, especially considering the special relationship between her and Peter Follansbee, one of Plymouth CRAFT's founders and most active instructors.
I'll ship the sign to the winner of the auction, then I'll donate all of the proceeds to The Plymouth CRAFT Scholarship Fund.  I will ship outside of the U.S., but will have to add accordingly to the shipping price listed.
The sign is 29 1/2″ x 7 3/4″.  The thickness tapers from roughly 1/2″ to 3/4″ from bottom to top as it was radially split from the tree.  The back side reveals marks from the riving.  White oak — Jennie's favorite."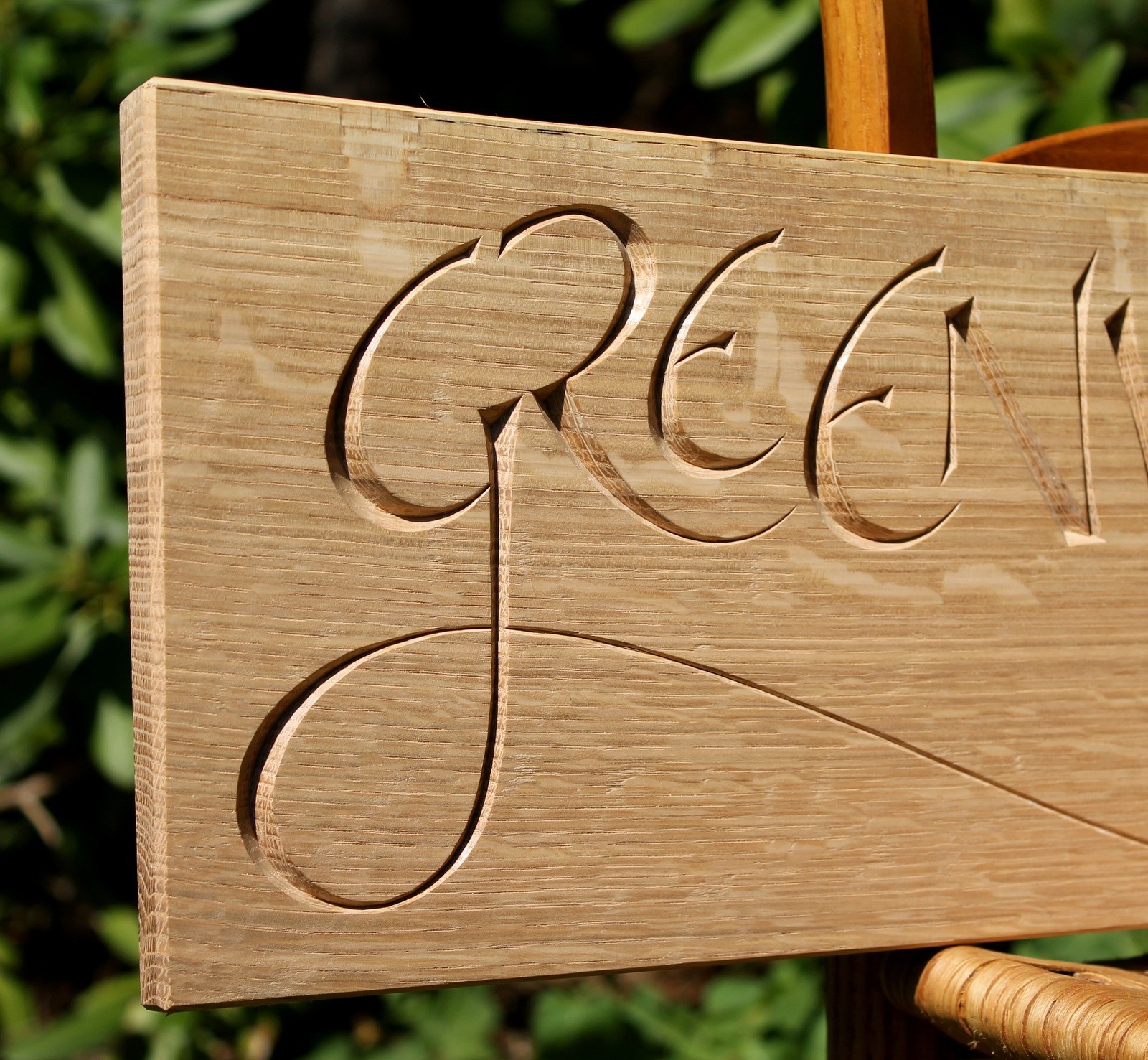 Link to Dave's auction  https://www.ebay.com/itm/Carved-Sign-in-White-Oak-Wood-greenwoodworking/302962380463
And that brings up Plymouth CRAFT's new Scholarship Fund. We've been kicking around the idea for a while of creating scholarships so those for whom our tuition is a stretch might still have a chance to come to our workshops and events. We're still working out how to implement it, but it's now underway. First shot is for Tim Manney's sharpening class coming up December 15 & 16. Here's the blurb about applying for the scholarships – https://www.plymouthcraft.org/craft-green-woodworking-sch
And here's the one about Tim's class. I think this will be our third time with this class, other than when he's led Greenwood Fest sessions on sharpening, and it gets better and better. https://www.plymouthcraft.org/an-axe-to-grind
Last for today, I have a new hatchet to try out. It came already sharp, so that's a plus.
Julia Kalthoff sent me one of her small carving hatchets to see how I like it. (Yes, there was no invoice. I'll use this hatchet with my students, as I do with hatchets that I have either bought or received over the years from Hans Karlsson, Robin Wood, and Svante Djarv). If I was shopping for a hatchet, I would gladly pay for Julia's – from what I can tell after only using it briefly, it's excellent and well worth her asking price. https://www.kalthoffaxes.se/
It feels like a cross between the Hans Karlsson hatchet and Svante Djarv's "small Viking" hatchet. Thicker than Karlsson's at the edge, giving it slightly wider bevels. This is similar to Djarv's in that respect. Curved cutting edge. The specs are on Julia's site – if I remember right, Beth Moen helped Julia work out the shape and size. All you carvers out there can now add another great axe to your axe-lust-list.