For any new readers, or to re-cap for anyone – the major work I have underway for this year is a copy of a large 1680s press cupboard made in Essex County Massachusetts. The original is now at the Massachusetts Historical Society in Boston. https://www.masshist.org/highlights/index.php#id=3231
My notes in the blog show that I first posted about the cupboard project in mid-February. At that point, I planed what oak I had on hand, which wasn't much. Then in early March got a short log and began planing stock. And kept on, in between other projects. Now much of that planed stock has reached the point where I can take the next steps. So now it will begin to look like something. If you want to see what's come before, I went back to the blog posts about it and added the line "Essex County cupboard project 2021" so a search on the blog for that phrase will get all the posts (except this one, because I'm still writing it) –  https://pfollansbee.wordpress.com/?s=Essex+County+cupboard+project+2021
I'm a little out of sequence between what's happening in the shop and here on the blog. That's due to a couple things; there's more work in editing & sorting video than posting photos on the blog – and spring migration got me out birding a lot this month. But stuff is trickling out, and I cut a bunch of joinery on it yesterday. More coming today. 
Some questions I've got about the project. It's for a private client, who will remain private. That's all we need to say about that. As far as plans/drawings, specs – I can't really publish those for a couple of reasons. First, the object I'm copying is in a museum collection here in Massachusetts. I got permission from that institution to make this repro. But I didn't ask for, and won't ask for, permission to publish all the specifics like a measured set of drawings. Regardless of how I see the "who owns these things" debate, I try to not run afoul of the museums & collections I study – I like to be invited back. So I try to play by their rules. Some institutions don't like you copying their stuff. No sense arguing with them.
Another reason is that this particular body of work is not solely my research. I collaborated with two groups when studying these pieces 20 years ago – I have mentioned & linked the article I worked on with Robert Trent and Alan Miller – here it is again http://www.chipstone.org/article.php/554/American-Furniture-2001/First-Flowers-of-the-Wilderness:-Mannerist-Furniture-from-a-Northern-Essex-County,-Massachusetts,-Shop-
The other angle I came at these cupboards is through my friends Rob Tarule and Ted Curtin. In 1999 they were making a copy of a related one for the Saugus Iron Works, and included me in the project. I don't have a photo of that cupboard, but it used to be on view there, and if I remember right, there was a film about us making it. Ahh, found a corner of it on their website   https://www.nps.gov/sair/index.htm
The article above has lots of photos, but they're now 20 years old. Some of these cupboards are posted on the web, two at the Museum of Fine Arts, Boston – they have good photos of one in particular – https://collections.mfa.org/objects/44557/court-cupboard
(they had more photos last time I looked. That cupboard is accession #51.53 and the other is #32.226)
This one from the Metropolitan Museum of Art in NY was also in our article, at that time it was in a private collection. https://www.metmuseum.org/art/collection/search/20612  – the Met's photos are public domain, how nice.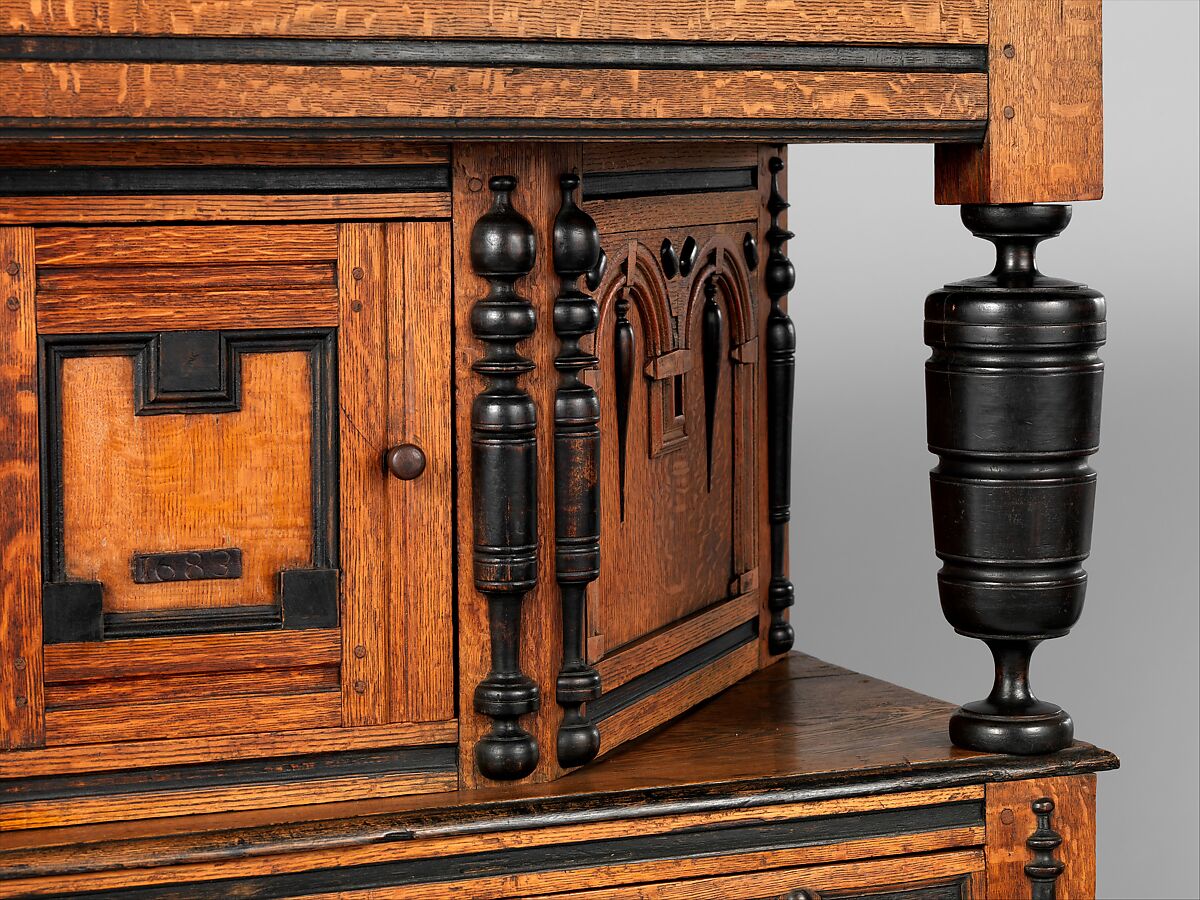 ——————-
So where'd I get yesterday? Started the joinery for the lower case. Framed the back (photo at the top of the post), which is very straight forward – two upright stiles, two horizontal rails and a vertical muntin. This frame has chamfers and bevels on its outer face (the muntin needs molded edges still) – but the corresponding upper case frame is not decorated. Everyone who knows why is dead. 
Then I got to start in on the side framing, which is where the fun begins. Lots of little joinery – four 2" long mortises.
Double tenons on the wide rails.
I got one set done, tested the framing and quit for the day. The next set will take a bit more time because I'll shoot video of it. So extra fumbling around. But it's fun. 
(pt 11 Essex County cupboard project 2021)