The year is nearly 1/4 over; and I'm just posting my teaching schedule. I was sure I did it already, but find no trace of it. And this was going to be the year I got organized…
This is all of the schedule for right now. There's one more carved box class in October, have to finalize it & post it. Connecticut Valley School of Woodworking. There will be some Plymouth CRAFT stuff late in the season; I'll post updates when I have them.
——————
Soon I'll leave home – first stop is April 2-6 – Carved oak box at Roy Underhill's Woodwright's School. Sold out, but other chances later in the season – see below. https://www.woodwrightschool.com/classes/carved-oak-box-w-peter-follansbee
——————–
April 25 & 26; Winterthur Museum; Furniture Up Close; I'll do a lecture/demo combination, and some collaboration with Bob Trent. We'll have a chance to see some pieces from the collection, you guessed it, up close.
https://www.winterthur.org/education/adult/conferences/furnitureupclose/
 Brochure & schedule here – http://pressroom.winterthur.org/pdfs/15884%20Furniture%20Up%20Close%202019%20online%20brochure_LR.pd
——————–
May 3-8; Plymouth CRAFT – Make a JA chair from a Tree. https://www.plymouthcraft.org/ladderback-chairs-with-peter-follan
6 days, only 6 students, sold out quickly; waiting list here: https://www.plymouthcraft.org/watlists
—————–
June 9th – One-day Spoon Day with Plymouth CRAFT; JoJo Wood, Dave Fisher, Tim Manney & way more –
Plymouth CRAFT is taking a year off from Greenwood Fest, but we then filled our time with a small-scale one-day version that's just as maddening. Details here: https://www.plymouthcraft.org/spoon-day
——————-
July 29- Aug 2, Lost Art Press Storefront Classes – carved oak box;
Your next shot at coming to make one of these boxes. This time only 6 students. I bring quartersawn oak, white pine and handmade nails for the boxes; you learn a slew of carving patterns and off we go.
https://www.eventbrite.com/e/make-a-carved-oak-box-with-peter-follansbee-tickets-53539278423
——————–
Sept 7 & 8 – Lie-Nielsen – Making shrink pots. The parlor trick of green woodworking.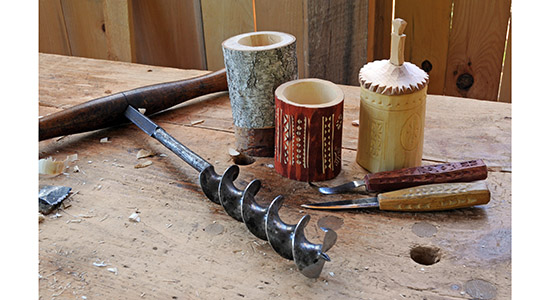 We'll make as many of these as we can in 2 days; and find all kinds of ways to decorate them. After Labor Day in Maine is the best…
https://www.lie-nielsen.com/workshop/USA/230
———————–
Sept 28 & 29 Connecticut Valley School of Woodworking – 2 days of oak carving – Like the middle of the box class – 2 full days of exploring just carving patterns. Watch Bob's horror as all he sees is faces. 
https://www.schoolofwoodworking.com/class-schedule/29-speciality-weekend-classes/626-carving-in-the-17th-century-style-with-peter-follansbee-2.html
——————
Dec 9- Friday Dec 13 – Lost Art Press Storefront Classes – Carved oak box for those who missed it before.
We finish up on Friday the 13th – what could go wrong? (It's bad luck to be superstitious)
https://www.eventbrite.com/e/make-a-carved-oak-box-with-peter-follansbee-december-2019-tickets-54260677146