Last week we announced a couple short-notice classes with Plymouth CRAFT. https://www.plymouthcraft.org/events
The lineup is Pocket Spoons with JoJo Wood and Bowl Turning with Darrick Sanderson. Two great instructors, one weekend, fabulous venue – October 5 & 6, 2019 at Overbrook House, Buzzards Bay, Massachusetts.
JoJo Wood returns for 2 days of spoon carving. JoJo is a great teacher, and has spent a tremendous amount of time perfecting her techniques in carving. Noted for clear, distinct facets and beautiful shapes, her spoons are easily picked out of a crowd. She was here in June to teach two classes and those went over very well. This class will focus on her "pocket spoon" – it's a social movement – you make great spoons and improve the planet at the same time.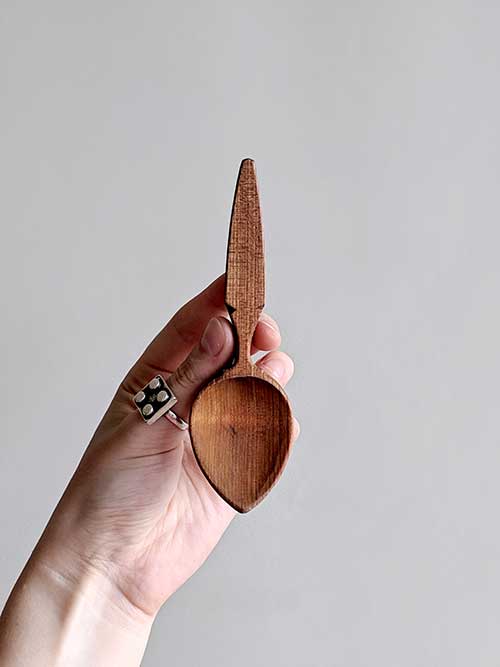 There's still room in this class, so you can sign up now. October is coming soon. At some point, she'll get sick of that trans-Atlantic flight and we won't see her as much. Get it while you can.
Darrick's class is essentially sold out – (there's a waiting list) EXCEPT – we've kept a spot in both Darrick's and JoJo's for a scholarship applicant. Maybe we've been too quiet about this, but here's the story, clipped from our website:
"We get it that registration fees can be a stretch for plenty of people. A community conversation about how to foster broader, more diverse, participation in green woodworking began at Greenwood Fest 2018 and is still ongoing; many present last June made donations to support that goal. Since then we at CRAFT have been trying to figure out the best way to extend the largesse of those generous folks who can afford it to those who cannot."
Our audience has responded very well to our request for help in offering these scholarships, for which we are grateful.
Read about it here: https://www.plymouthcraft.org/craft-green-woodworking-sch
At the bottom of that page are two buttons – one for "apply" and one for "donate"
—————–
My own classes – I have two left for this year that have space. Both at Connecticut Valley School of Woodworking. One's a 2-day class in carving oak patterns; Sept 28 & 29;  https://www.schoolofwoodworking.com/class-schedule/29-speciality-weekend-classes/626-carving-in-the-17th-century-style-with-peter-follansbee-2.html
the other is a 5-day class in making (& carving) an oak box with a pine lid; October 12-16.
https://www.schoolofwoodworking.com/class-schedule/37-week-long-classes/635-make-a-carved-oak-box-with-peter-follansbee.html