I took today off, which means I only did woodworking for half the day so far. A few things rambling around during the last week. We made it out to the beach the other day for the first time since the winter hit hard.
The usual beach-combing, sand-building, and scenery-viewing. Then on the walk back, Daniel noticed this skull. I put the keys in the shot for scale.
My what lovely teeth you had…really small, but fierce teeth. I woulda brought it home for the skull & bones collection, but it was still fleshy in places…
Saw this in the yard today, it was cause for excitement.
The view up the river, no ice.
I finished this bowl yesterday & today. Mostly finished, I'll carved some stuff along its rim. Butternut, (Juglans cinerea)
Here's one way I hold it for final shaping of the rims' edge. Just some scrap blocks inside the bowl, to keep the vise from pressing against the upper edge.
Like the spoons, I lean towards odd-ball shapes. This one's a bent limb, which results in the pith being off-center. So I made the centerline of the bowl ever further out-of-whack. That results in some unusual shapes. Which can be good, or can be fatal. Worked this time, I think.
If you are at all interested in hewing bowls, two things. I'm teaching it this August at Lie-Nielsen, https://www.lie-nielsen.com/workshop/USA/71
and otherwise, you might if you haven't already look at Dave Fisher's new blog about his carvings. Dave's stuff is really inspiring. https://davidffisherblog.wordpress.com/
One other Lie-Nielsen thing – we have decided to try something new(ish) for my carving class this June. Usually we rive and plane some oak, and carve patterns based on the 17th-century stuff. This time, we're attempting to carve and assemble a small box.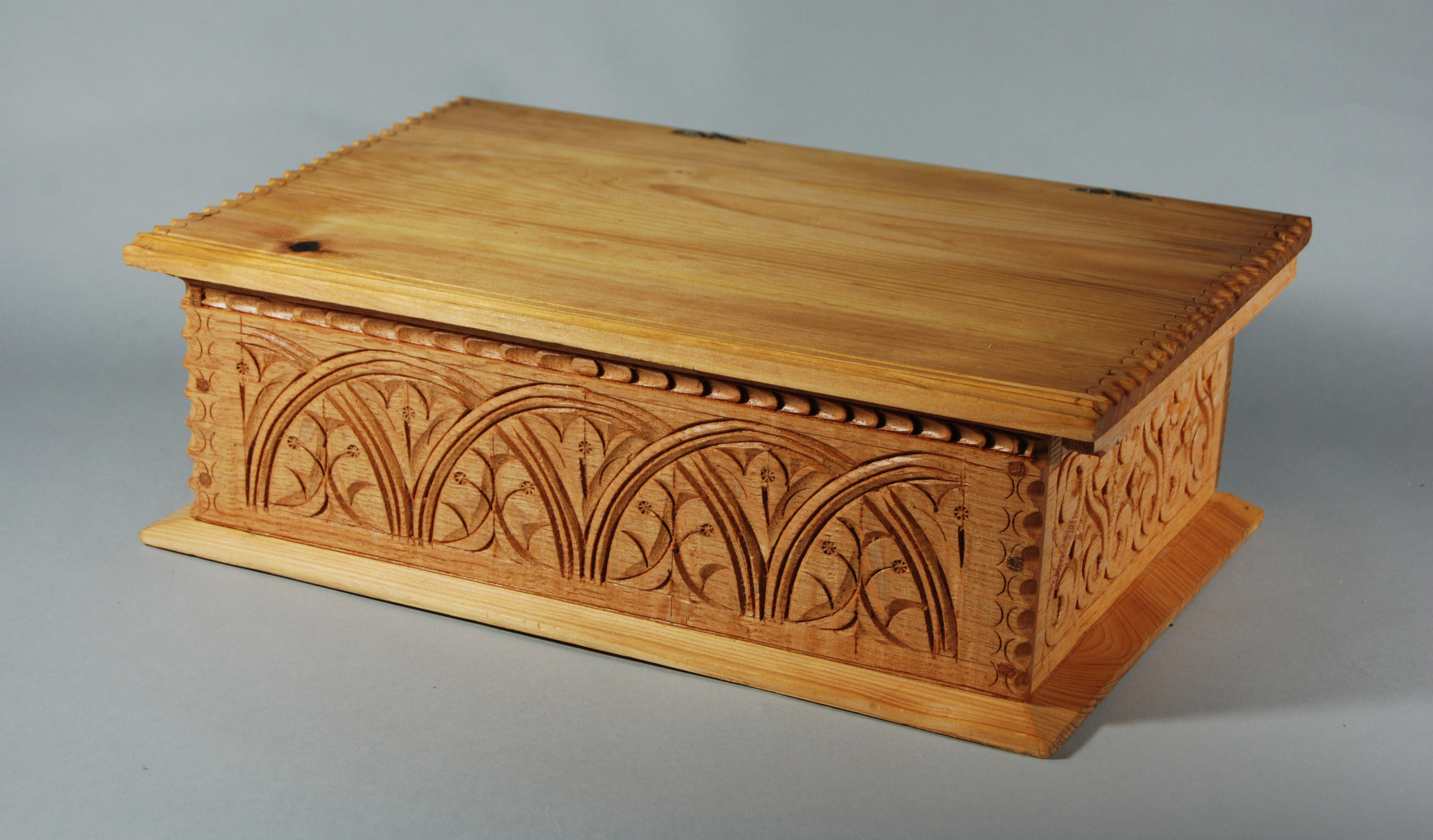 So instead of riving the stuff, it will be riven & prepped ahead of time. Then we'll concentrate on carving and cutting & assembling. 2 days – whew. https://www.lie-nielsen.com/workshop/USA/61
I'll be doing the whole-soup-to-nuts version of the carved box at Marc Adams' school as well as the New English Workshops in England. I'll write in detail about those workshops later this week.
http://www.marcadams.com/available-classes/handskills/1679/
http://www.newenglishworkshop.co.uk/